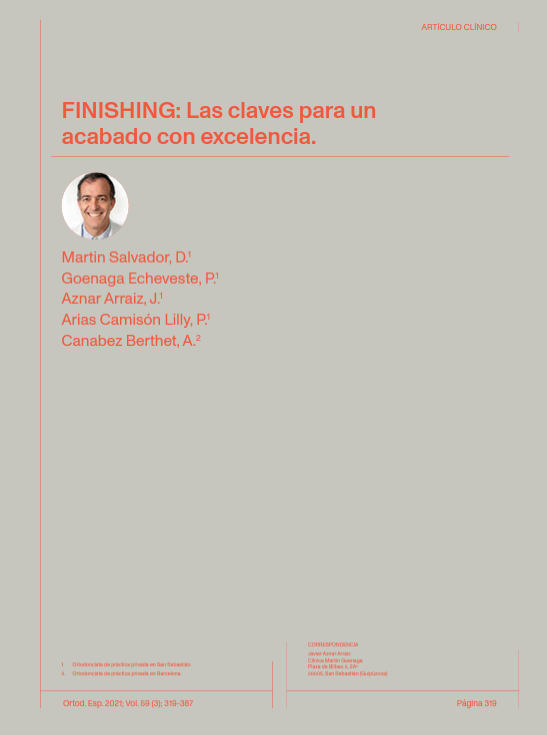 FINISHING: Las claves para un acabado con excelencia.
AUTHOR: Martin Salvador D, Aznar Arraiz J, Arias-Camisón Lilly P, Canabez Berthet A.
Spanish abstract
La idea del presente artículo, nace como respuesta, a la demanda de ortodoncistas de todo el mundo. Vaya donde vaya, siempre me preguntan en los cursos y congresos: ¿como acabas un caso? ¿que trucos y cuáles son los secretos que tienes para acabar bien un caso? El dichoso "finishing". Pues no hay secretos ni trucos en "finishing", hay simplemente directrices. Sin embargo antes de explicar las directrices, tengo que decir que lo más importante para acabar bien un caso, es "querer acabar bien un caso", primero, el deseo de excelencia y en segundo lugar, "querer dedicar tiempo y esfuerzo" en acabar bien un caso. Fácil, no es, pero tampoco imposible, simplemente hay que dedicarle tiempo, ganas y esfuerzo en conseguirlo. Por último, seguir unas normas básicas. Esas normas consisten en, empezar siempre por el problema transversal, a continuación tratar el tema vertical (Dios mío, que importante es el tema vertical y que poca importancia se le da) y por último, la relación anterior-posterior. Mi profesor y mentor, el Dr. Roth, siempre decía, que para acabar bien un caso, había que acabar primero la arcada inferior y a continuación la arcada superior, o por lo menos, estar siempre un paso por delante en la arcada inferior. Tiene su lógica y de eso hablaremos en este artículo. Otra vertiente importante, son los objetivos de tratamiento. Estos objetivos tienen que ser, tanto funcionales, como estéticos y este, es otro de los aspectos que vamos a cubrir en este artículo. Un buen acabado consiste, en conseguir un buen resultado estético y funcional. Como dice el refrán "la belleza es flor de un día" y sin embargo la función es estabilidad y longevidad. Nuestro objetivo debe ser, crear casos estables en el tiempo y sobre todo, casos longevos. En este artículo, finalmente, vamos a explicar, todos los aspectos que consideramos fundamentales, para acabar BIEN un caso. Vamos a dar unas pautas y guías muy ilustradas que hay que tener en cuenta para acabar un tratamiento con excelencia. Al final del artículo, presentamos un caso de forma detallada, donde se han tenido en cuenta, muchos aspectos desarrollados a lo largo del artículo, para poder obtener un excelente resultado final. PALABRAS CLAVE: oclusión, estética dental, estética de la sonrisa, bioestética.
Access our most valuable content free of charge.
Related Scientific papers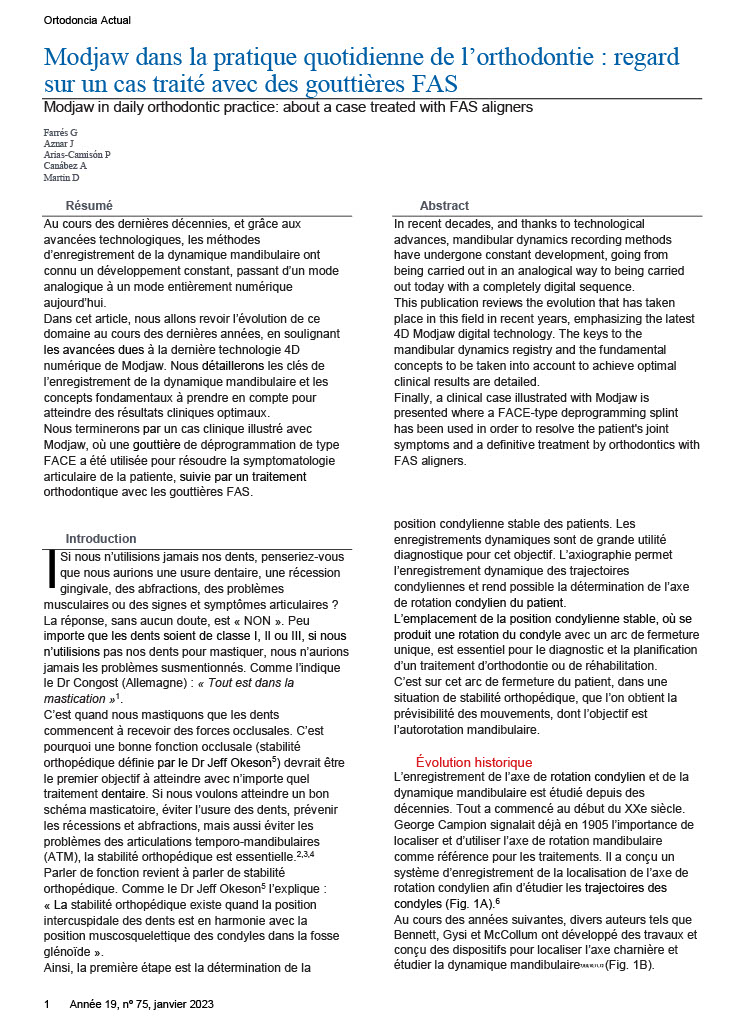 Modjaw dans la pratique quotidienne de l'orthodontie : regard sur un cas traité avec des gouttières FAS
1st FACE online symposium
The world is changing and in FACE, following tradition, we wont be left behind.
As we all know, we can't travel or meet, so once again, we will take advantage of technology to turn the situation around.
«Work hard, play hard«
Two days full of experiences, thanks to the participation of 20 different clinics.
We'll see you on February 26 and 27