Paper language: English and spanish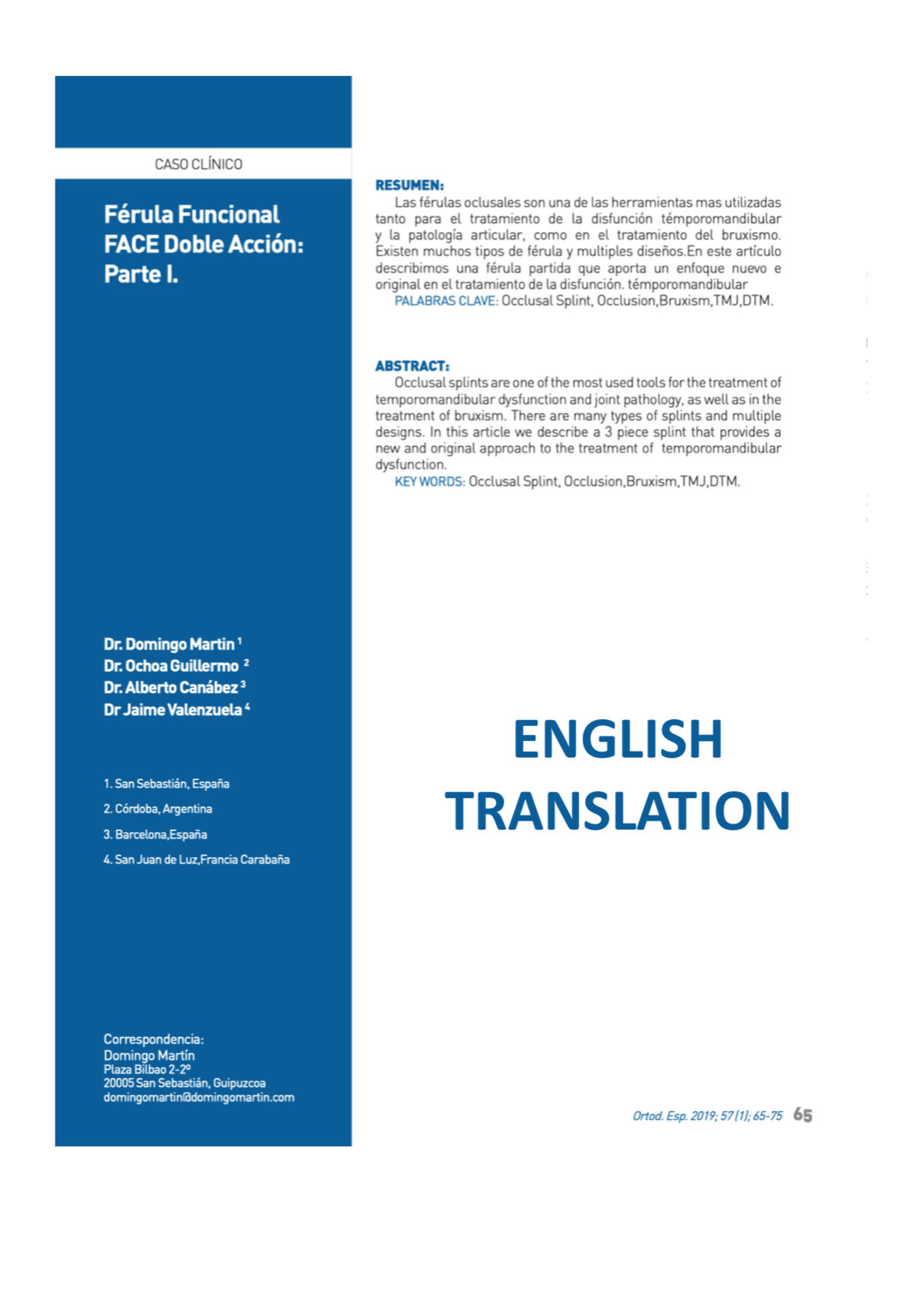 Férula Funcional FACE Doble Acción: Parte I
AUTHOR: Dr. Domingo Martin, Dr. Guillermo Ochoa, Dr. Alberto Canábez y Dr. Jaime Valenzuela
English abstract
Occlusal splints are one of the most used tools for the treatment os temporomandibular dysfunction and joint pathology, as well as in the treatment of bruxism. There are many types of splints and multiple designs. In this article we describe a 3 piece splint that provides a new and original approach to the treatment of temporomandibular dysfunction. KEY WORDS: Occlusal Splint, Occlusion, Bruxism, TMJ, DTM.
Spanish abstract
Las férulas oclusales son una de las herramientas más utilizadas tanto para el tratamiento de la disfunción temporamandibular y la patología articular, como en el tratamiento del bruxismo. Existen muchos tipos de férula partida que aporta un enfoque nuevo e original en el tratamiento de la disfunción temporomandibular. PALABRAS CLAVE: Occlusal Sprint, Occlusion, Bruxism, TMJ, DTM
Access our most valuable content free of charge.
Related Scientific papers
1st FACE online symposium
The world is changing and in FACE, following tradition, we wont be left behind.
As we all know, we can't travel or meet, so once again, we will take advantage of technology to turn the situation around.
«Work hard, play hard«
Two days full of experiences, thanks to the participation of 20 different clinics.
We'll see you on February 26 and 27